Hi, guys. I know I haven't posted a book review in a minute and it's because I've been so so so busy. I never got round to finishing or even going far in The Upside of Unrequited by Becky Alberttali. So far so good it is interesting, but not interesting enough that I want to consume it as a whole. But I blame it on the many distractions in my life currently.
I got a job at my local bookshop so from 9 am – 8 pm I am assisting with the upkeep in the shop and helping people find and select the right book, how fun, right? It's my summer job, the first job I found for all by myself and of course it has to do with books. This job though is taking so much time, I'll have to squeeze in time for reading my e-books. I also got myself one of my favourite reads this year by my role model Chimamanda Ngozi Adichie.
On the plus side, I had the time to finally get into Beasts Made of Night by Tochi Onyebuchi. It's really fun reading this book, because it's Nigerian and it's based in a fictional and way different Nigeria, with so many new terms and stuff, I'm still trying to grasp the whole concept and point of this story, I'll have a verdict on my feelings for this book once I'm done reading it, probably tomorrow.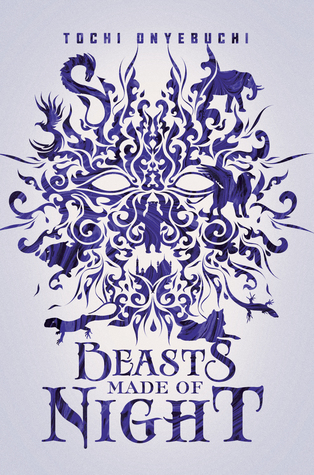 I also started reading The Forbidden by Jodi Ellen Malpas last night right before I fell asleep, which means I didn't get anywhere with it sadly. I'll probably get back into it tonight or after I am done with Beasts Made of Night. I can't wait for order to restore in my life, but I guess I'm adjusting to having a job that needs me to be active. I hope to be writing a book review as soon as possible. I actually miss writing them.
I also changed my Twitter username from @LaraTKareem to @WordsBlast. I just love it okay and I need more twitter friends, can't ever have too much. So if you have a twitter please follow me, I'll follow you back xo.