I stumbled across a post like this on Javacia's site a little while ago and I loved it immediately and promised myself from 2018, I'll make it a monthly feature on here, because there are so many women who are my girl crushes and I'm going to continue acquiring girl crushes on many many ladies.
These are ladies who inspire me, I can't help but be infatuated with them because of how they carry themselves, how they portray themselves and look, their beliefs and what they do.
The wonderful thing about this feature is, it could be anyone (female). As long as the lady has captured my attention and has me inhaling every single thing about them eagerly.
Robyn Rihanna Fenty
Robyn Rihanna Fenty was born on February 20, 1988, in Saint Michael, Barbados. Rihanna is an Executive Entrepreneur, Global Pop Star, Fashion Icon, Model, Actress, Spokesperson and Ambassador for many organizations and brands etc.
Rihanna won 2017. First of all, she was named the 2017 Harvard University Humanitarian of the Year. She gifted us with Fenty Beauty, the most inclusive make-up brand of all time (don't come for me) More Puma x Fenty! most streamed female artist of the year on Spotify and she didn't even release an album this year.
"What I want the little girl watching those commercials to know, is you don't have to be rich to be a humanitarian. You don't have to be rich to help somebody. You don't gotta be famous. You don't even have to be college-educated," February 2017, Harvard.
Aside from the fact that Riri slew 2017. I don't know why, but I just love her. She has grown so much over the years and she just keeps on making good decisions as she progresses. I mean she is the queen of shade, she makes me laugh at how shady she can be. Yet she's doing so much I can't help but love her and all she does, her music just keeps getting better and better.
Besides that, she's constantly speaking out for the underprivileged and giving back to the community as much as she possibly can. I mean she is a Global Ambassador for the Global Partnership for Education. She assisted in convincing various world leaders Canadian Prime Minister Trudeau, Danish Prime Minister Lars Rasmussen, and French President Francois Hollande to commit more funds in support of quality education for children in emergencies.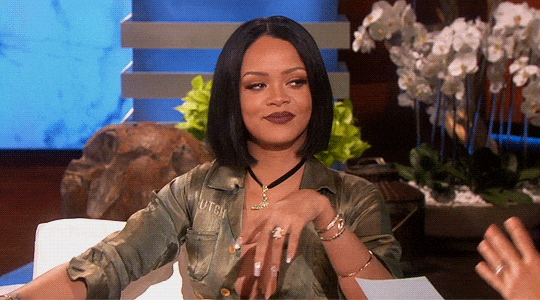 She is using her platform immensely well for the improvement and betterment of so many lives. She is quick to raise her voice for causes she believes in. She is good woman towards her family and friends, she is just wonderful. She exudes confidence and instils it in a lot of us. I mean she is an embodiment of I do what I want and don't care what you think. She doesn't sell the I am perfect image and how antibody shamming she is. I could go on and on!