Title – Meet Cute
Author – Helena Hunting 
Publication – April 9th 2019.
Publisher – Forever
Genres – Contemporary, Romance & Adult Fiction
Talk about an embarrassing introduction. On her first day of law school, Kailyn ran – quite literally – into the actor she crushed on as a teenager, ending with him sprawled on top of her. Mortified to discover the Daxton Hughes was also a student in her class, her embarrassment over their meet-cute quickly turned into a friendship she never expected. Of course, she never saw his betrayal coming either…

Now, eight years later, Dax is in her office asking for legal advice. Despite her anger, Kailyn can't help feeling sorry for the devastated man who just became sole guardian to his thirteen-year-old sister. But when her boss gets wind of Kailyn's new celebrity client, there's even more at stake than Dax's custody issues: if she gets Dax to work at their firm, she'll be promoted to partner.

The more time Kailyn spends with Dax and his sister, the more she starts to feel like a family, and the more she realizes the chemistry they had all those years ago is as fresh as ever. But will they be able to forgive the mistakes of the past, or will one betrayal lead to another?
Title – Fluffy
Author – Julia Kent
Publication – April 30th 2019
Publisher – Prosaic Press, Inc.
Genres – Romance, Adult Fiction
It all started with the wrong Help Wanted ad. Of course it did.

I'm a professional fluffer. It's NOT what you think. I stage homes for a living. Real estate agents love me, and my work stands on its own merits.

Sigh. Get your mind out of the gutter. Go ahead. Laugh. I'll wait.

See? That's the problem. My career has used the term "fluffer" for decades. I didn't even know there was a more… lascivious definition of the term.

Until it was too late.

The ad for a "professional fluffer" on Craigslist seemed like divine intervention. My last unemployment check was in the bank. I was desperate. Rent was due. The ad said cash paid at the end of the day. The perfect job!

Staging homes means showing your best angle. The same principle applies in making a certain kind of movie. Turns out a "fluffer" doesn't arrange decorative pillows on a couch.

They arrange other soft, round-ish objects.

The job isn't hard. Er, I mean, it is — it's about being hard. Or, well… helping other people to be hard.

Oh, man…

And that's the other problem. A man. No, not one of the stars on the movie set. Will Lotham – my high school crush. The owner of the house where we're filming. Illegally. In a vacation rental.

By the time the cops show up, what I thought was just a great house staging gig turned into a nightmare involving pictures of me with an undressed star, Will rescuing me from an arrest, and a humiliating lesson in my own naivete.

My job turned out to be so much harder than I expected. But you know what's easier than I ever imagined?

Having all my dreams come true.
Title – Red Zone (Red Zone #1)
Author – Janet Elizabeth Henderson 
Publication – April 22nd 2019
Publisher – Entangled Publishing LLC 
Genres – Romance, Contemporary & Adult Fiction.
In a world where everything you see and hear is recorded by an implant in your brain, Friday Jones has seen something she shouldn't. And now everyone either wants her dead or to steal what's locked in her memory banks.

She has no choice but to take poison that will block recall of the information, but it will also kill her in four days if she can't reach the antidote. She'll need the help of a ruthless mercenary if she has any chance at survival.

The last thing Striker wants to do is draw attention to his team and their special abilities. Helping Friday will do exactly that. She's hard-headed, smart, and a walking dead woman. But when he discovers what's in her head, there's no way he's going to leave her behind.

They're in a race against time to save both the information and Friday, but Striker has secrets of his own that could kill them all.
Title – The Rose (The Red #2)
Author – Tiffany Reisz
Publication – April 16th 2019
Publisher – MIRA
Genres – Fantasy, Erotica, Romance & Adult Fiction
On the day of Lia's university graduation party, her parents—wealthy art collectors with friends in high places—gift her a beautiful wine cup, a rare artifact decorated with roses. It's a stunning gift, and one that August Bowman, a friend of her parents and a guest at Lia's party, also has his eye on. The cup, August tells her, is known as the Rose kylix, and it's no ordinary cup. It was used in the temple ceremonies of Eros, Greek god of erotic love, and has the power to bring the most intimate sexual fantasies to life.

But Lia is skeptical of August's claims of the cup's mythology and magic—after all, he's a collector himself, and she suspects he just wants to get his hands on this impressive piece of art. So he dares her to try it for herself, and when Lia drinks from the Rose kylix she is suddenly immersed in an erotic myth so vivid it seems real—as though she's living out the most sensual fantasy with August by her side…

Realizing the true power of this ancient and dangerous relic, Lia is even more wary of giving it up, though August insists it is only safe with him. He's willing to pay the full value of the cup, but Lia has another type of trade in mind. One that finds them more tangled up in each other—and in fantasy—than either was prepared for.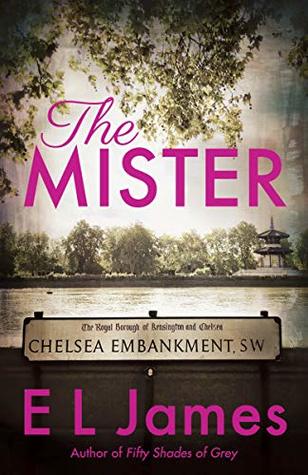 Title – The Mister
Author – E.L. James
Publication – April 16th 2019
Publisher – Vintage
Genres – Romance, Contemporary & Adult Fiction
London, 2019. Life has been easy for Maxim Trevelyan. With his good looks, aristocratic connections, and money, he's never had to work and he's rarely slept alone. But all that changes when tragedy strikes and Maxim inherits his family's noble title, wealth, and estates, and all the responsibility that entails. It's a role he's not prepared for and one that he struggles to face.

But his biggest challenge is fighting his desire for an unexpected, enigmatic young woman who's recently arrived in England, possessing little more than a dangerous and troublesome past.  Reticent, beautiful, and musically gifted, she's an alluring mystery, and Maxim's longing for her deepens into a passion that he's never experienced and dares not name. Just who is Alessia Demachi? Can Maxim protect her from the malevolence that threatens her? And what will she do when she learns that he's been hiding secrets of his own?

From the heart of London through wild, rural Cornwall to the bleak, forbidding beauty of the Balkans, The Mister is a roller-coaster ride of danger and desire that leaves the reader breathless to the very last page.
What books have you been anticipating that are being released this month? If you know you'll love them, please share them so I can check them out! Thanks for reading.