Blurb
This is what they deserve. They wanted me to be a monster. I will be the worst monster they ever created.
Fifteen-year-old Sloane can incinerate an enemy at will—she is a Scion, a descendant of the ancient Orisha gods. Under the Lucis' brutal rule, her identity means her death if her powers are discovered. But when she is forcibly conscripted into the Lucis army on her fifteenth birthday, Sloane sees a new opportunity: to overcome the bloody challenges of Lucis training, and destroy them from within.
Sloane rises through the ranks and gains strength but, in doing so, risks something greater: losing herself entirely, and becoming the very monster that she ahbors.
Following one girl's journey of magic, injustice, power, and revenge, this deeply felt and emotionally charged debut from Deborah Falaye, inspired by Yoruba-Nigerian mythology, is a magnetic combination of A Song of Wraiths and Ruin and Daughter of Smoke and Bone that will utterly thrill and capture readers.
Introduction
I read Blood Scion early last year and boy did it suck me in wholly. It's such an intense, jaw-dropping and magical read, because of it's cultural richness. It's a story that made me fall more in love and in awe of my culture and history as it artfully mixes facts with fiction.
Deborah Falaye accomplished an amazing feat with this novel, which is the first book in the Blood Scion Series (I believe it's a duology) and I can't help but keep repeating that you all should buy, borrow and read this magnificent work of art.
Over time, I've had wonderful interactions with Dee and I knew that whatever happens, I just had to feature Deborah on this blog, so everyone else get's to meet the amazing person behind such a beautiful book and experience her remarkable personality.
Q&A Session with Author, Deborah Falaye
Lara: Hello Deborah, I can't contain my excitement, it's such an honour to feature you on my blog. How are you doing today?
Deborah: Hi Lara! I'm doing great. And I have to say the feeling is definitely mutual, so thank you so much for having me.
Lara: In a couple of weeks Blood Scion will be hitting the shelf globally, can you share how that makes you feel? What release day plans do you have?
Deborah: Honestly, I still can't believe we're that close to Blood Scion's debut. This journey has been ten years in the making, so to finally be here, it definitely feels surreal. I will say that I'm really excited to finally see this book out in the world. Of course, there's some nerves that go along with that, but I'm mostly just trying to live in the moment and hope that readers love Sloane's story as much as I do. As far as plans, since we're still in the middle of the pandemic, my book launch event will be happening virtually. But other than that, I'm looking forward to celebrating Blood Scion's release with my family and friends.
Lara: Let's talk about Blood Scion. I'm in awe because of how fantastic and majestic the story is. It's amazing how this is your debut novel. When did you begin writing the story? And what or who gave you that push to share it with the world?
Deborah: Ah, thank you so much! I started working on Blood Scion in 2012 when I was still in university. I had just completed my very first manuscript, and was trying to figure out how to revise it when I got this shiny new idea about a young girl descended from the Orisha gods who was grappling with the loss of her identity and culture. I knew immediately this was the story I wanted to write, the story I wanted to have published. And so, I spent the next ten years drafting and rewriting every inch of this book. Of course, there were many times when I doubted myself, times when I wasn't sure if I would ever even complete the book. Luckily, I had my husband who has always been so supportive of this journey from the beginning, and he really gave me that push I needed to not only start writing, but to also finish the story.
Lara: This brings me to ask if it has always been part of your life goals to publish a book?
Deborah: Oh absolutely! When we lived in Nigeria, my mom was a teacher, so we always had piles of books around the house. I grew up devouring stories by Wole Soyinka, Chinua Achebe, and really any African literature I could get my hands on. Every single one of those books inspired me to want to create stories of my own, and I remember gathering the kids around my neighborhood and forcing them to act out the stories I wrote. Those kids probably hated me back then lol, but storytelling has always been my passion, and I certainly dreamed to one day publish a book of my own. So to have Blood Scion coming out in a few weeks is truly a dream come true.
Lara: I'm curious about how Blood Scion came to be, can you remember the idea that led to you writing and building the world within this story?
Deborah: Well, Blood Scion really began as a celebration of my Yoruba culture. I've always been so fascinated by the mythology surrounding the Orisha pantheon, so when I had the first spark of idea for Sloane's character, it was this imagery of a young girl who embodied all the different parts of Shango—his magic, his ferocity, his anger and his warrior-like persona. But in her world, everything about her identity and her magic immediately made her a target. So I started to ask myself why. As an immigrant, one of the first things you're told is to be careful not to lose your culture. But a huge part of the struggle many immigrants face is also the inability to fully embrace our culture and be ourselves, especially living in a foreign, new world. In the end, many people are forced to reject those very important aspects of themselves in order to survive and assimilate. This was something I really struggled with when I first moved to Canada, and I had no idea it would go on to become the foundation of Blood Scion—this world that has been stripped of its culture, its people, and its magic, and one young girl at the heart of it all fighting to reclaim everything that has been stolen from her. The second I realized this, it really set the tone for where the story would go and how Sloane's journey would evolve, because I knew she would have to fight with everything she had in order to affect change, in order to bring that culture back. And who better than the descendant of Shango himself?
Lara: The way you have mixed fact with fiction in Blood Scion is worthy of great applause, I feel like it was important to you to make use of a part of your history in telling this story, can you share why?
Deborah: Thank you so much for saying that! It was definitely very important for me to not only pull from the Yoruba culture, but to also utilize our history in the most authentic way that I could. A huge part of that is because when I started working on Blood Scion, there weren't any stories that were inspired by non-western mythology and or settings. So I knew that if I was going to write a book about the Yoruba culture and its history, I wanted it to be very true to the source. I wanted to write a book that my mom, who studied and taught Yoruba back in Nigeria, could pick up and say, you did our culture proud. So I agonized over every piece of cultural detail, the more obvious ones and the very subtle ones, because it was very important for me to get it right. Also, even though Blood Scion isn't a historical fantasy by any means, it definitely borrows from history because at its core, this is a story about colonization and looking at the effects of it through the lens of those who have been colonized. I wanted to explore that part of history within Blood Scion by highlighting the impact of colonization not just on the nation, but also on the individual self. With Sloane especially, we got to see how this terrible legacy shapes her identity, and how that in turn influences the way she navigates her society—all of which serve as a mirror to places like Nigeria, and the African continent as a whole, where we can still see the lasting impacts of colonization in the daily lives of the people living there. And I don't think the media speaks about this enough.
Lara: It's hard refraining from asking certain questions, because people haven't read the book yet, but I'll be nice. In the book they're many enthralling stories about the Yoruba Deities, I would love to know which of them is your favourite and why?
Deborah: The mythology surrounding the Irunmole Forest was definitely a favorite, mainly because the spirits are all so scary. My mom actually told me she had nightmares after reading that scene, so I feel like I achieved what I set out to do lol. But really, the decision to include stories of the Iwin and Egbere into Blood Scion was a nod to my childhood in Nigeria. I remember being so afraid whenever we had to walk through the forest on our way to church because I constantly heard stories about the spirits that inhabit the forest. So I've definitely had this deep fear of forests my whole life, and I feel like I got to bring all of that fear to life when I wrote the Irunmole scene. I did add my own twist to it, which apparently only made it scarier lol.
Lara: As you know, I loved every single chapter in the final part of the book, because of the care that went into writing it. The build-up was perfect, the climax mind-blowing and the end liberating. It left me both satisfied and wanting more. How did you feel when you wrote this part of the book?
Deborah: Oh man, writing those last five chapters was a rush. Honestly, I felt like I was on some kind of a book high when I wrote that part of the book, especially because I've been dying to get those words out for years. I had this epic twist in my head for pretty much an entire decade, and I knew exactly what would happen at every turn. I knew what the last line of the book would be, so to finally get to that point in the story, it really was an experience for sure. I feel like you describe it best though because there is something very liberating about those last scenes. I felt it while writing, so I can only imagine what it's like for readers.
Lara: With your writing, what message are you passing on to your readers and the world?
Deborah: I don't go into a book thinking this is the message I want readers to get out of it. But as authors, I feel like we also pull so much from our own realities and the things happening around us that it's almost hard for our stories not to be saying something. With Blood Scion, I went into that book wanting every Black kid, African kid, and Nigerian kid, to see a true representation of themselves in those pages, because the books I was reading in 2012 certainly had zero representation of us in them. So it was very important for me to have a Black, Nigerian girl who looked like me front and center stage, and I wanted her to be the hero of her own story. I wanted to portray her vulnerability, her hope, her fight, and very much her anger. Because the truth is Sloane is angry, and justifiably so. At only fifteen years old, she's been through it and then some. So to emphasize her anger and her rage, that was my way of confronting this racial stereotype and misperception most Black women face whenever they are called "angry" and "sassy." Often times, when the media portrays the Black woman, she's dehumanized as this overly aggressive, incredibly temperamental character without any justification as to where that anger and pain come from. But with Sloane, you get to see and understand that anger, and know that yes, it is real and it is valid. And I think for many Black girls, that's something important for us to hold onto—that our emotions, whatever it is we feel, is a thousand percent justified.
Lara: I bet you have read some amazing books and I would love to add more to my reading list. So, can you please share the title of your favourite book, an author you recommend and the last book you read and loved?
Deborah: Yes! My TBR is forever growing, but I've been able to read some really incredible titles these past few months. My favorite one right now has to be Louisa Onomé's upcoming YA contemporary, Twice as Perfect. It's such a beautiful, heartfelt story about family, identity, and it also features the most epic Nigerian wedding—I loved it so much. Another author I absolutely recommend is Roseanne A. Brown. Both A Song of Wraiths and Ruin and A Psalm of Storms and Silence are two of the most incredible YA fantasy books in the genre right now, so for anyone out there who hasn't read these yet, do yourselves a favor and pick up this duology because you need it. The last book I read also happens to be Louisa Onomé's book, so I'll just shout-out a few books I'm excited to read next. Empress Crowned in Red by Ciannon Smart, Ashes of Gold by J. Elle, The Ivory Key by Akshaya Raman, Some Mistakes Were Made by Kristin Dwyer, Only A Monster by Vanessa Len, and This Vicious Grace by Emily Thiede are some of the ones on my list.
Lara: Do you have any insider information (that won't get you into trouble) you can share concerning Book #2?
Deborah: LOL I can't say much about book 2, but I can tell you that I'm currently working on the first draft, and it's the most chaotic, most ambitious story I've ever written. There are many revelations happening in this sequel as we go deeper into the history of the world, what exactly happened to the Orishas, and how it all impacts Sloane and her mission. So you can definitely expect more pain, more heartache, and lots of epic twists. Oh God, I also can't wait for readers to find out how it all ends because the ending definitely surprised me, and I'm the author lol. As far as release date, we're aiming for 2023, so I'm sure more details about the title and the cover will be announced later this year.
Lara: And my final question is, what's the best way for fans of your work to reach you?
Deborah: You can find me on both Instagram and tiktok @deborahfalaye, and on twitter @deefalaye. I'd also just like to add that this has been so incredible, and thank you so much, Lara, for hosting me on your blog!
Lara: Thank you.
About the Author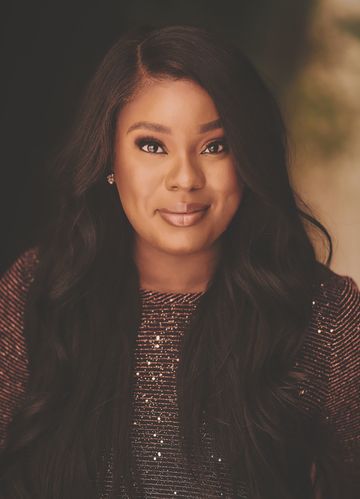 Deborah Falaye is a Nigerian-Canadian young adult author. She grew up in Lagos, Nigeria, where she spent her time devouring African literature, pestering her grandma for folktales, and tricking her grandfather into watching Passions every night.
When she's not writing about fierce Black girls with badass magic, she can be found obsessing over all things reality TV. Deborah currently lives in Toronto, Canada with her husband and their partner-in-crime yorkie, Major.
Blood Scion, which HarperTeen will publish March 8, 2022, is her first novel.
Goodreads ‧ Instagram ‧ Podcast ‧ Services ‧ Storygraph ‧ Tiktok ‧ Twitter