Authors Cynthia Hand, Brodi Ashton & Jodi Meadows  Book My Lady Jane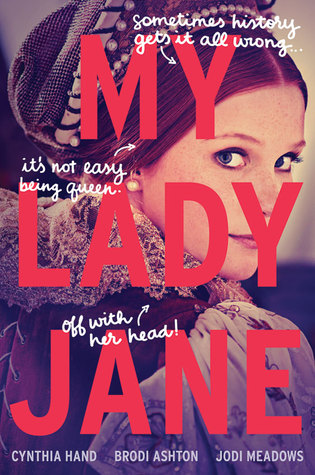 I only see good reviews for My Lady Jane everywhere I look. And lately, when a book is getting rave reviews, I tend to not like it as much, because when I finally get to reading the book, I don't agree with much of the hype. This isn't the case here. I had a ball and a good laugh at this made up, remixing and retelling of history in a very imaginative and creative way, especially with the authors as narrators, which makes the story, even more, fun to read, I found myself laughing despite myself and surroundings. I was much engrossed with the story and I prefer this version of history to the tragedy that is the actual history of Lady Jane Dudley.
Jane is a role model, her love for books is very alarmingly, cause she just about consumes everything, I wish I had her voracity. I especially love how she doesn't hesitate to put G in his place whenever he stepped out of line, yes being unknowingly sexist, cause it was the norm in that century. Both of them made quite the couple and were the cause of many of my laughter. I loved Jane's eccentric nature, it was oddly refreshing. It's fitting that Jane's E∂ian is a ;). I immediately knew what she was.
King Edward! Quite the king, he's so hilarious and unserious, yet serious. I loved reading his character growth and he's really the character that learned a lot about life and growing to have a true passion for oneself, knowing, accepting and taking what he truly desired in life, releasing the big weight on his shoulder and let him truly live his life to its fullest and it does count that Grace helped in pushing him in the right direction nor does it hurt to have a good and strong woman beside a man, together accomplishing things has one head. His E∂ian is as royally savvy as it should be.
G is one fine stud. And how sweet is he, has a good heart, loyal and humble. Doesn't have a lot of confidence in himself and it's because of his conniving father Lord Dudley. He's so caught up in a dreamy world of poetry and that makes him a darling and the perfect match for Jane and ah he's just Noble and good, despite his few flaws and over the top dramatic reactions cause of his blatant love for Jane.
I love how the E∂ian dominate this story and it makes me wish I was part of this very wonderful and imaginative world, that only ends with happily ever afters. It was quite fun discovering the characters E∂ian self and the irony for Bloody Mary at the end.
I didn't expect to like this book, I was very skeptical. I love it when a book proves me wrong. Cause it's about history and I thought it would be mildly entertaining and romance would just be a background genre in the story, which it is but not entirely. It was everything I didn't expect