Author Colleen Hoover Book It Ends With Us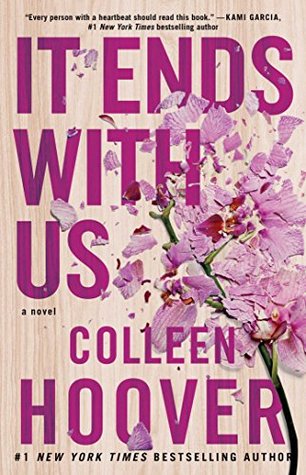 I don't know where to start from. I am so utterly devastated. I love Colleen Hoover so much and I swear no one can ever take her permanent spot as my favorite author, she is such an insta-read.
This book has touched a place within me so deep, because I know how it feels.
As soon as I was done with the last page. I was left reeling and holding myself back because of the amount of feelings I was getting at once. My heart shattered and was still healing minutes from finishing the book, so I still needed to regroup, before picking up my laptop and immediately writing this.
This is the best book I am going to read in 2016, it is going to be the book I'll be recommending everyone to buy and read. It is the book that breaks hearts and allows us to see and better understand situations that are so complex, fragile and sensitive in the world we live in. This is the first book since I read Maybe Someday, that has made me feel so much to the point I cry and it's funny how that also is a Colleen Hoover book.
I'm writing a completely spoiler free review because I need anyone who plans on reading this to go into it, blind and just get ready to be bombarded with feels and understand what I am talking about here. I assure you 100% even if you hate the romance genre, this isn't what you'll be expecting. It's in full Colleen Hoover style, writing at it's best and every new book Colleen Hoover writes always happens to make it to my favorite of the year.
The synopsis or blurb does not do justice to the story at all, no it isn't another angsty love triangle at all, a far cry from it.
I felt all of Lily's emotions happiness, achievement, pain and confusion along with her, I was experiencing it all and it hurt so much. It exactly portrays how life can be sometimes. I loved every character in the book, every single character, no matter how despicable or horrible, everyone along with their naked flaws and truths.
It brings out every emotion in me I could muster, love, anger, hatred, frustration, confusion, sadness, happiness everything. It is so heavy, deep, bittersweet and worth every minute of it. It's unlike any other book you've read thus far and it's more personal and easy to connect and fall in love with the story of the lives of the characters.
Stop whatever book you're reading and just pick this up, I promise you, It is so worth it.