Hi, today I thought to post something different and I picked this cause I thought oh debuts but lol I'm disappointed in myself because, when I started creating this list, I realised that I haven't read a lot of debut novels, and even if I have, not everyone I've read is a favourite, so this list is shorter than I thought it would be. Below are books I enjoyed reading and took me by surprise, I would love to know your own favourite debut books also and how they made you feel.
Book One in Anna and the French Kiss Series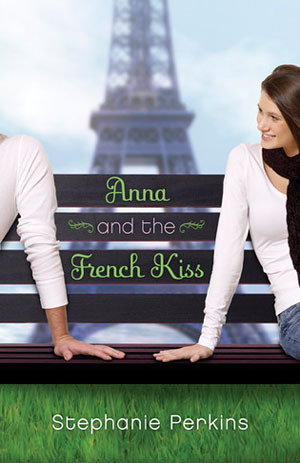 Anna is looking forward to her senior year in Atlanta, where she has a great job, a loyal best friend, and a crush on the verge of becoming more. Which is why she is less than thrilled about being shipped off to boarding school in Paris–until she meets Étienne St. Clair. Smart, charming, beautiful, Étienne has it all…including a serious girlfriend.
But in the City of Light, wishes have a way of coming true. Will a year of romantic near-misses end with their long-awaited French kiss?
I love this book. It's the best in the series and I can never ever forget it and how happy it made me feel, when I read it in 2011. I've read it twice afterwards and still loved it.
Book One in An Ember in the Ashes Series
Laia is a slave. Elias is a soldier. Neither is free.
Under the Martial Empire, defiance is met with death. Those who do not vow their blood and bodies to the Emperor risk the execution of their loved ones and the destruction of all they hold dear.
It is in this brutal world, inspired by ancient Rome, that Laia lives with her grandparents and older brother. The family ekes out an existence in the Empire's impoverished backstreets. They do not challenge the Empire. They've seen what happens to those who do.
But when Laia's brother is arrested for treason, Laia is forced to make a decision. In exchange for help from rebels who promise to rescue her brother, she will risk her life to spy for them from within the Empire's greatest military academy.
There, Laia meets Elias, the school's finest soldier—and secretly, it's most unwilling. Elias wants only to be free of the tyranny he's being trained to enforce. He and Laia will soon realise that their destinies are intertwined—and that their choices will change the fate of the Empire itself.
I think this was the first book I read this year. And well the writing is so powerful, and this series is awesome, just got to wait till next year, before the next book in the series is released, why though :(?
Book One in The Lunar Chronicles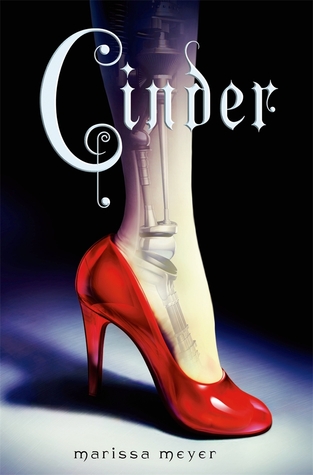 Sixteen-year-old Cinder is considered a technological mistake by most of the society and a burden by her stepmother. Being cyborg does have its benefits, though: Cinder's brain interference has given her an uncanny ability to fix things (robots, hovers, her own malfunctioning parts), making her the best mechanic in New Beijing. This reputation brings Prince Kai himself to her weekly market booth, needing her to repair a broken android before the annual ball. He jokingly calls it "a matter of national security," but Cinder suspects it's more serious than he's letting on.
Although eager to impress the prince, Cinder's intentions are derailed when her younger stepsister, and only human friend, is infected with the fatal plague that's been devastating Earth for a decade. Blaming Cinder for her daughter's illness, Cinder's stepmother volunteers her body for plague research, an "honour" that no one has survived.
But it doesn't take long for the scientists to discover something unusual about their new guinea pig. Something others would kill for.
I need to finish the last book in this series, but I do't have time for it at the moment, but I love this series, it's awesome and each book gets better, which is quit an accomplishment. One of the good over-hyped books in my opinion.
Carrie knew she should not use the terrifying power she possessed… But one night at her senior prom, Carrie was scorned and humiliated just one time too many, and in a fit of uncontrollable fury, she turned her clandestine game into a weapon of horror and destruction…
This debut is one of a kind. It's so good, I actually thought it was real, had to go do some google research to ensure it was all fiction. I love the writing style and everything.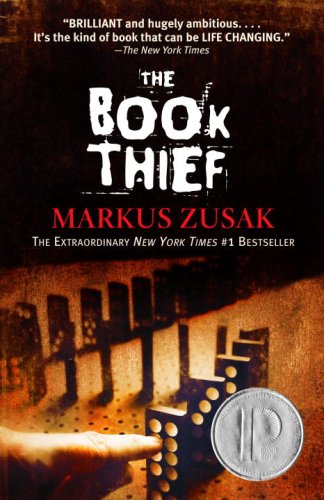 It's just a small story really, about among other things: a girl, some words, an accordionist, some fanatical Germans, a Jewish fist-fighter, and quite a lot of thievery. . . .
Set during World War II in Germany, Markus Zusak's groundbreaking new novel is the story of Liesel Meminger, a foster girl living outside of Munich. Liesel scratches out a meagre existence for herself by stealing when she encounters something she can't resist–books. With the help of her accordion-playing foster father, she learns to read and shares her stolen books with her neighbours during bombing raids as well as with the Jewish man hidden in her basement before he is marched to Dachau.
I don't know how many times I'm going to commend this book, but it will always be a favourite of mine.
Deep in the stacks of Oxford's Bodleian Library, young scholar Diana Bishop unwittingly calls up a bewitched alchemical manuscript in the course of her research. Descended from an old and distinguished line of witches, Diana wants nothing to do with sorcery; so after a furtive glance and a few notes, she banishes the book to the stacks. But her discovery sets a fantastical underworld stirring, and a horde of daemons, witches, and vampires soon descends upon the library. Diana has stumbled upon a coveted treasure lost for centuries-and she is the only creature who can break its spell.
Debut novelist Deborah Harkness has crafted a mesmerising and addictive read, equal parts history and magic, romance and suspense. Diana is a bold heroine who meets her equal in vampire geneticist Matthew Clairmont and gradually warms up to him as their alliance deepens into an intimacy that violates age-old taboos.
I need to finish this trilogy, i don't even know where i am in the second book, due to I trying out audiobooks, so I'm so lost. I don't think audiobooks are for me. I didn't know what to expect when I picked this book to read, cause I got the book one for free. But I was very surprised but the playout and it is actually a very intresting book.
Scarlett Epstein Hates It Here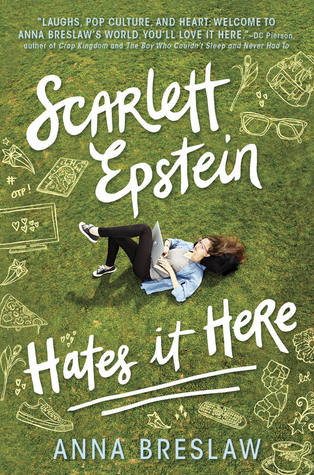 Meet Scarlett Epstein, BNF (Big Name Fan) in her online community of fanfiction writers, world-class nobody at Melville High. Her best (read: only) IRL friends are Avery, a painfully shy and annoyingly attractive bookworm, and Ruth, her weed-smoking, possibly insane seventy-three-year-old neighbour.
When Scarlett's beloved TV show is cancelled and her longtime crush, Gideon, is sucked out of her orbit and into the dark and distant world of Populars, Scarlett turns to the fanfic message boards for comfort. This time, though, her subjects aren't the swoon-worthy stars of her fave series—they're the real-life kids from her high school. And if they ever find out what Scarlett truly thinks about them, she'll be thrust into a situation far more dramatic than anything she's ever seen on TV…
The cover is so beautiful and the story is also beautiful, a lot of people don't like this book, but I think it is a gem and I would love to re-read it.
Book One in Gabriel's Inferno Trilogy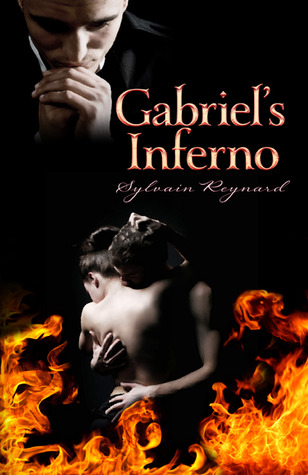 Enigmatic and sexy, Professor Gabriel Emerson is a well-respected Dante specialist by day, but by night he devotes himself to an uninhibited life of pleasure. He uses his notorious good looks and sophisticated charm to gratify his every whim but is secretly tortured by his dark past and consumed by the profound belief that he is beyond all hope of redemption.
When the sweet and innocent Julia Mitchell enrols as his graduate student, his attraction and mysterious connection to her not only jeopardises his career but sends him on a journey in which his past and his present collide.
An intriguing and sinful exploration of seduction, forbidden love and redemption, "Gabriel's Inferno" is a captivating and wildly passionate tale of one man's escape from his own personal hell as he tries to earn the impossible…forgiveness and love.
So I haven't finished this book, I haven't finished the last book in this trilogy, but someho I've re-read the two books before the last one, something isn't right, right? I love this book though, it is very captivating and sweet sweet taboo.
"It is a truth universally acknowledged, that a single man in possession of a good fortune must be in want of a wife." So begins Pride and Prejudice, Jane Austen's witty comedy of manners—one of the most popular novels of all time—that features splendidly civilised sparring between the proud Mr Darcy and the prejudiced Elizabeth Bennet as they play out their spirited courtship in a series of eighteenth-century drawing room intrigues.
I read this book because my English teacher in year 8 said it was necessary, and my mum also. I didn't expect to enjoy it but I did. I also read a nice understandable version, which had footnotes at the end of each page, so if I didn't get a word, I instantly understood what I was reading.
Book One in The Wrath and the Dawn Series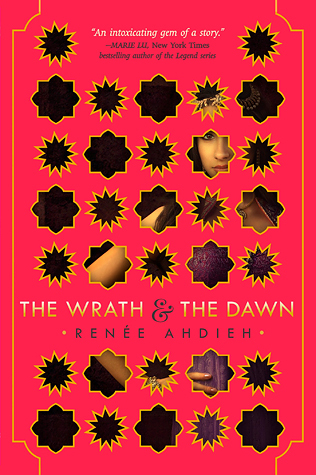 In a land ruled by a murderous boy-king, each dawn brings heartache to a new family. Khalid, the eighteen-year-old Caliph of Khorasan, is a monster. Each night he takes a new bride only to have a silk cord wrapped around her throat come morning. When sixteen-year-old Shahrzad's dearest friend falls victim to Khalid, Shahrzad vows vengeance and volunteers to be his next bride. Shahrzad is determined not only to stay alive but to end the caliph's reign of terror once and for all.
Night after night, Shahrzad beguiles Khalid, weaving stories that enchant, ensuring her survival, though she knows each dawn could be her last. But something she never expected begins to happen: Khalid is nothing like what she'd imagined him to be. This monster is a boy with a tormented heart. Incredibly, Shahrzad finds herself falling in love. How is this possible? It's an unforgivable betrayal. Still, Shahrzad has come to understand all is not as it seems in this palace of marble and stone. She resolves to uncover whatever secrets lurk and, despite her love, be ready to take Khalid's life as retribution for the many lives he's stolen. Can their love survive this world of stories and secrets?
So, I was spectical about this book, but when I gave it a chance, I really lovd it and now I find Renee Ahdieh dear to me.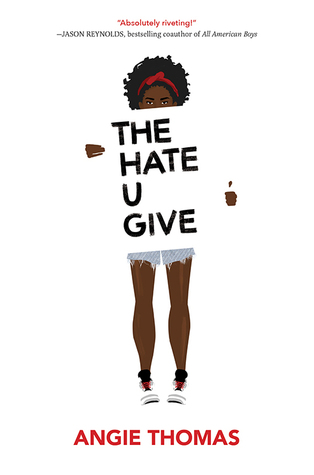 Sixteen-year-old Starr lives in two worlds: the poor neighbourhood where she was born and raised and her posh high school in the suburbs. The uneasy balance between them is shattered when Starr is the only witness to the fatal shooting of her unarmed best friend, Khalil, by a police officer. Now what Starr says could destroy her community. It could also get her killed. Inspired by the Black Lives Matter movement, this is a powerful and gripping YA novel about one girl's struggle for justice.
I'm looking forward to reading this book, more than anything this month.
My name is Tate. He doesn't call me that, though. He would never refer to me so informally if he referred to me at all. No, he'll barely even speak to me.
But he still won't leave me alone.
We were best friends once. Then he turned on me and made it his mission to ruin my life. I've been humiliated, shut out, and gossiped about all through high school. His pranks and rumours got more sadistic as time wore on, and I made myself sick trying to stay out of his way. I even went to France for a year, just to avoid him.
But I'm done hiding from him now, and there's no way in hell I'll allow him to ruin my senior year. He might not have changed, but I have. It's time to fight back.
I'm not going to let him bully me anymore.
I love love love this book and Until You, which is the book again but written from Jared's point of view and he is my ultimate book boyfriend, I just love him.