Book – Preston's Honor
Authors – Mia Sheridan
Publication – February 19th, 2017.
Publisher – CreateSpace Independent Publishing Platform
Blurb – Annalia Del Valle has loved Preston Sawyer all her life. The daughter of an impoverished migrant farmworker, she grew up as an outcast in what was no more than a tiny, cooped up shack in California's Central Valley. But her heart found freedom in the land, in the wide-open spaces of Sawyer Farm, and in the boys who were her only friends.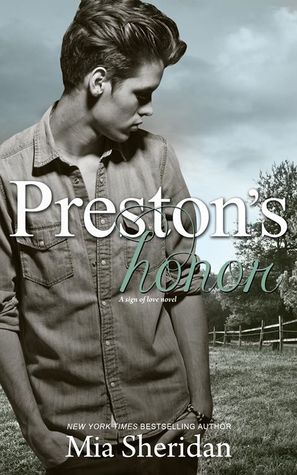 Preston has yearned for Annalia since he was a boy. But a sense of honor kept him from pursuing her until he's unable to hold back any longer and their worlds—and bodies—collide one hot summer night. A night that sets off a chain of events that will alter their lives forever.
Now Annalia is back in town after disappearing without a trace for six long months. Determined to reclaim her heart, her life, and the baby she left behind—the son who was created in a moment of lust and love and pent-up yearning.
Preston has survived grief, a ravaging drought, and the despair of heartache, but he's not sure he can survive Annalia again. And he might be unwilling to try. Will pride and bitterness keep him from the one thing he's always longed for?
How do you heal what is irreparably broken? How do you forgive that which is unforgivable? How do you discover that real honor comes not from the circumstance, but from the place deep in our hearts where truth resides? And how do you move beyond the wounds of the past to discover that some loves are as solid as the ground beneath your feet and as enduring as the earth itself?
My Review
Started on – April 13th, 2017.
Finished On – April 13th, 2017.
I love reading Mia Sheridan's A Sign of Love novels and this book is showing she's getting back on track to how good her stories were, with the first books in this series, despite them being A Sign of Love novels, all are stand-alone's and I haven't seen any connection so far, so feel free reading them orderless.
Okay, so how do I start? I don't understand how Annalia could leave her baby behind, I don't get it. It doesn't make sense to me and it will forever not sit well with me. I don't condone leaving without a word or trace, it's very cowardly, selfish and careless. If you say you love or care about someone, then it's common courtesy to at least leave a note, saying goodbye.
So the story starts with Annalia returning, after running away. Note I can understand why she felt she had to leave, she definitely was going through a lot and the circumstances surrounding her at that time called for it, but still, she made the wrong choice, even though ultimately it helped her in the end. She was very depressed, alone, caring for her newborn baby, feeling rejected in all corners of her life and grieving at the same time. That's a bad combination of emotions and stress.
Preston has his own flaws also and I hate how the lack of communication between them became their ultimate downfall, I also felt he was a coward too and instead of owning up to his feelings, he let them reside and I think he was too self-righteous. He was a sweet and caring man, loved his son and family. But he largely is the cause for his and Annalia's unhappiness, even if played her own part also.
I loved all the minor characters except Preston's mother and the mean chick, can't remember her name. I really don't understand why his mother was a stuck up snot nosed, distasteful human being, even in the end that she was getting redeeming qualities I still did not like her. The mean chick, I found unnecessary, to be honest.
I loved the bed bug scene a lot because as I was reading the book, I actually was having a bed bug problem, don't know where the insect was hiding, but I kept getting bites. But the scene was terrible and I felt sad and pained on behalf of Annalia, because she went through a lot. Her mother was a Mexican immigrant, who had suffered so much, she was stuck being depressed and lost in her own world, where she tended to ignore little Annalia who had to mostly fend for herself. I loved how the community who helps Annalia heal and grow into herself also helped in drawing out her mother.
This story is about acceptance, finding self-worth, forgiveness and love.