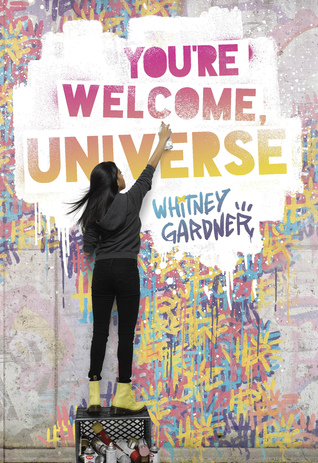 Book – You're Welcome, Universe
Authors – Whitney Gardner 
Publication – March 7th, 2017
Publisher – Knopf
Blurb – When Julia finds a slur about her best friend scrawled across the back of the Kingston School for the Deaf, she covers it up with a beautiful (albeit illegal) graffiti mural.
Her supposed best friend snitches, the principal expels her, and her two mothers set Julia up with a one-way ticket to a "mainstream" school in the suburbs, where she's treated like an outcast as the only deaf student. The last thing she has left is her art, and not even Banksy himself could convince her to give that up.
Out in the 'burbs, Julia paints anywhere she can, eager to claim some turf of her own. But Julia soon learns that she might not be the only vandal in town. Someone is adding to her tags, making them better, showing off—and showing Julia up in the process. She expected her art might get painted over by cops. But she never imagined getting dragged into a full-blown graffiti war.
My Review
Where do I start from? Why you should read this book, is a good place to start. Julia, the main character is Deaf, has lesbian parents who are also Deaf. The story truly gives a Deaf person's perspective, so kudos to Whitney Gardiner. I picked up this book for the 2017 diversity bingo, d/Deaf MC slot.
I enjoyed reading this book, but I didn't really like Julia. There was just something about her attitude that doesn't bode well with me, she came across super defensive and quick to jump to conclusions. I quite frankly didn't like how she treated Yoga Pants, I loved YP. Yoga Pants, was friendly and approachable from the beginning, despite her own issues, she didn't let it colour her friendship with Julia and ultimately fought for it.
There are other minor characters, and the story felt a bit mismatched to me, too much going on and not quite adding up, too many issues and unnecessary drama going on, in such a short amount of space, I really can't remember the end of the book, which I think left me feeling unsatisfied.
Overall, it really enlightens a bit about the Deaf community, but the execution of the story could have been way better.