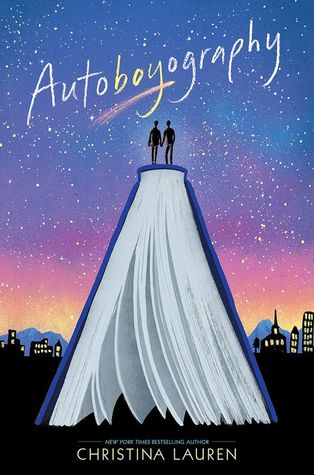 Book: Autoboyography
Author: Christina Lauren
Published: September 12th, 2017.
Publisher: Simon & Schuster Books for Young Readers
Three years ago, Tanner Scott's family relocated from California to Utah, a move that nudged the bisexual teen temporarily back into the closet. Now, with one semester of high school to go, and no obstacles between him and out-of-state college freedom, Tanner plans to coast through his remaining classes and clear out of Utah.
But when his best friend Autumn dares him to take Provo High's prestigious Seminar—where honor roll students diligently toil to draft a book in a semester—Tanner can't resist going against his better judgment and having a go, if only to prove to Autumn how silly the whole thing is. Writing a book in four months sounds simple. Four months is an eternity.
It turns out, Tanner is only partly right: four months is a long time. After all, it takes only one second for him to notice Sebastian Brother, the Mormon prodigy who sold his own Seminar novel the year before and who now mentors the class. And it takes less than a month for Tanner to fall completely in love with him.
The blurb of this book summarizes the whole story but only leaving out crucial details, such as how religion plays a big role and is important in this novel, which will do nothing short of ruin you emotionally.
I don't know how this book didn't get on my radar last year, I heard nothing about it, and this book is so good and so many mutuals have read it, but I didn't notice. I guess that's why I need to be better at being active in the online book community.
I love Tanner and Sebastian so much and their relationship is one that will have you rooting for them, laughing and crying for them. I really don't know how to write this review, because I can't seem to be thinking up words other than it's just so wonderfully amazing. So I'm just going to list it all out.
Tanner Scott
Lives in Provo, the very religious LDS (Mormons) community
Bi-Sexual
Over supportive family. This is a very good thing
He is out to his family members.
Who constantly make him feel good about himself.
A closed knit family.
Present parents, with kickass jobs. 
Still very much in their children's lives
Mum is a feminist, ex-LDS and a tech genius
Dad is a bad-ass surgeon and supportive of his wife
Parents are very in love.
His family isn't very religious
Identifies as Jewistians.
Autumn, is an awesome best friend, who I love.
Manny & Eric are also kickass.
Sebastian Brother
Very religious.
His family's pride and joy.
Son of the Bishop.
He is so messed up he won't even admit to himself he is gay (this wrecks me).
Causes problem for himself and Tanner.
Has the best pieces of advice to share.
Dedicated and loyal.
A published author.
A brilliant and awesome writer and teacher.
Has the most positive outlook on life.
Even though his life is falling apart.
He's going to be shunned by his family if he acknowledges he is gay.
He's going to be shunned by everyone in the LDS community.
How can you give birth and raise a person only to shun them?
Because of who they love?
This book has me in pain for Sebastian who is denying who he is just to please his family and his religious community. My heart aches for him because all his life he has had to hide and believe something is wrong with him and it's a disease he can get rid of, this doesn't help that he knows his family won't be supportive at all.
On the other hand, Tanner has all the support he needs and people constantly showing him how much his orientation doesn't matter and still bless him with the love that is normal because nothing is more important than love of all kinds.
This book didn't hide and I think it did so well in writing about religion. I think Christina Lauren did a splendid job because she wasn't even painting a bad picture of the Mormon community, just highlight how damaging certain aspects of their beliefs can be.
I loved this story so much, but I hate the ending okay. The ending is all happy and good but, just no. I need more it just can't end there, I just need to know what next and I bet I'm not the only one who feels this way!
With that out of the way, I loved this book and I am so glad I got it and read it, well I did more than that since I devoured it.