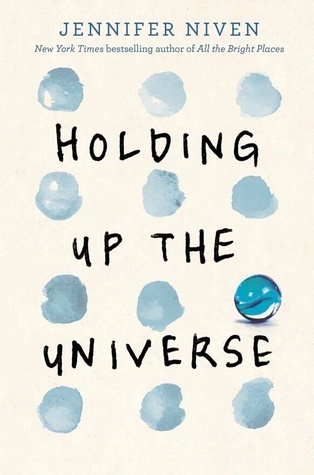 Book: Holding Up the Universe
Author: Jennifer Niven
Publisher: Alfred A. Knopf Books for Young Readers 
Published: October 4th, 2016.
Everyone thinks they know Libby Strout, the girl once dubbed "America's Fattest Teen." But no one's taken the time to look past her weight to get to know who she really is. Following her mom's death, she's been picking up the pieces in the privacy of her home, dealing with her heartbroken father and her own grief. Now, Libby's ready: for high school, for new friends, for love, and for every possibility life has to offer. In that moment, I know the part I want to play here at MVB High. I want to be the girl who can do anything. 

Everyone thinks they know Jack Masselin, too. Yes, he's got swagger, but he's also mastered the impossible art of giving people what they want, of fitting in. What no one knows is that Jack has a newly acquired secret: he can't recognize faces. Even his own brothers are strangers to him. He's the guy who can re-engineer and rebuild anything, but he can't understand what's going on with the inner workings of his brain. So he tells himself to play it cool: Be charming. Be hilarious. Don't get too close to anyone.

Until he meets Libby. When the two get tangled up in a cruel high school game—which lands them in group counseling and community service—Libby and Jack are both pissed, and then surprised. Because the more time they spend together, the less alone they feel. Because sometimes when you meet someone, it changes the world, theirs and yours.
I loved this book and now I can't wait to get my hands on All The Bright Places. I went into this book blind and I'm so glad about it. I got given the physical copy of this book last year by one of my closest friends as a graduation present along with another book, which shall not be named in this post. It's a great gift because ever since the book got published it has had my attention and I am glad I finally took a break from reading my eBooks (my phone fell down a toilet, I have no other choice but to start reading from my tbr pile of physical books) okay I'm done with my intro to the book review.
So I went into this book blind like I mentioned above and I was surprised at what I found. Libby "America's Fattest Teen" it was astonishing and refreshing to read about it because it's something I have never read or if I'm being honest never expected to read in books, because of the many amounts of books I've read and the standard size of women in them (p.s. I am all for women of all sizes being equally represented).
This story is about Libby, loving and being true to herself. She has worked her ass off to be of a healthier size, where she's not at risk of her body functions or is it part failing? Now she is ready to return to the brutal land that is high school, where she knows she will be subjected to bullying because of her size because let's face it all high schools have their sets of ignorant douche faces. I rest my case.
I think because of these odds it makes Libby a little bit overprotective of herself and also has her making shitty decisions also, but I mean she's a teen, so she's still learning and she's dealt with a lot for someone her age, not really having the luxury of being a kid with no worries for a long time.
Then there's Jack, who has prosopagnosia, he rarely ever remembers faces (99%). Members of his family, his friends, colleagues etc. He remembers no one's face and it's because of brain damage. He's been living with it for years and I really don't know how no one figured it out, or why he didn't tell his family. I loved Jack, who if I am being honest is one bad decision after another, but with the best of intentions behind them, bless him. I mean he knows when he is being shitty and works actively to be better.
Jack is a sweetie okay. His worries are so legit, that I felt his plight. So much he has to keep inside and deal with. Which also like left me with a lot of questions, because I really want to know what happens next in the story. But I get the point Jennifer Niven, was pointing out that everything isn't always as it seems and well adults can be shitty and kids can't do anything about it most times. (trying not to reveal spoilers)
I loved the dancing, I hated the unnecessary bullying, but I guess some people will always be shallow and self-centred no matter what. I loved the character growth of Jack and Libby and I just wish I had more to read.