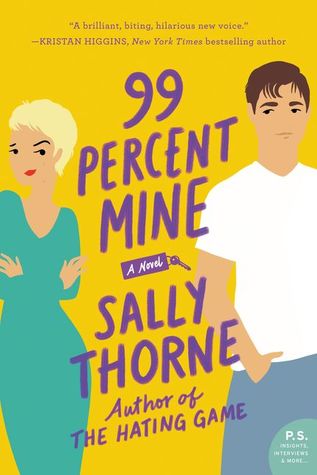 Title – 99 Percent Mine
Author – Sally Thorne 
Publication – 29th, January 2019.
Publisher – William Morrow Paperbacks
Genre – Romance, Contemporary & Adult Fiction
Crush: a strong and often short-lived infatuation, particularly for someone beyond your reach…

Darcy Barrett has undertaken a global survey of men. She's travelled the world, and can categorically say that no one measures up to Tom Valeska, whose only flaw is that Darcy's twin brother Jamie saw him first and claimed him forever as his best friend. Despite Darcy's best efforts, Tom's off limits and loyal to her brother, 99%. That's the problem with finding her dream man at age eight and peaking in her photography career at age twenty—ever since, she's had to learn to settle for good enough.

When Darcy and Jamie inherit a tumble-down cottage from their grandmother, they're left with strict instructions to bring it back to its former glory and sell the property. Darcy plans to be in an aisle seat halfway across the ocean as soon as the renovations start, but before she can cut and run, she finds a familiar face on her porch: house-flipper extraordinaire Tom's arrived, he's bearing power tools, and he's single for the first time in almost a decade.

Suddenly Darcy's considering sticking around to make sure her twin doesn't ruin the cottage's inherent magic with his penchant for grey and chrome. She's definitely not staying because of her new business partner's tight t-shirts, or that perfect face that's inspiring her to pick up her camera again. Soon sparks are flying—and it's not the faulty wiring. It turns out one percent of Tom's heart might not be enough for Darcy anymore. This time around, she's switching things up. She's going to make Tom Valeska 99 percent hers.

Book Review
Never have I given up on a book and picked it back up because I like torturing myself? But there I was slaving away at this book which was very slow and didn't really have a lot going on in it.
I was super excited to get my hands on this book because of how much The Hating Game blew me away. Usually, after I read an author's first book, their second ever book is magnificent but this one didn't cut it. It missed many marks.
I was constantly annoyed by the characters. I get they're meant to be witty, but it fell flat. Because it was a long repetitive theme in this book, like driving on about the same point for more than half of the book.
Which was the reason why I kept giving up, but I really wanted to see if the story got better and it kind of did near the end.
I swear all the ones before the ending was quite unnecessary and simply talking like if they were all together and aired their dirty laundries, communication that will lead to complete comprehension would have happened and stopped the unnecessary angst.
I really didn't like Tom, still don't and also Darcy is something else, like the two of them, are some sort of odd characters and something about them didn't work. I swear all the characters in the book were annoying and I just feel very dissatisfied, like I was cheated.
I ranted and ranted while I read the book to a friend of mine, who told me to give up but I'm glad I didn't because if I hadn't I wouldn't have stumbled on the Epilogue for The Hating Game, it was like a consolation prize for finishing the book.
From the near ending of this book is what saved it and why I'm rating it as I am. I don't know if I would rush to pick up another Sally Thorne book again.