Book Managed Series VIP Author Kristen Callihan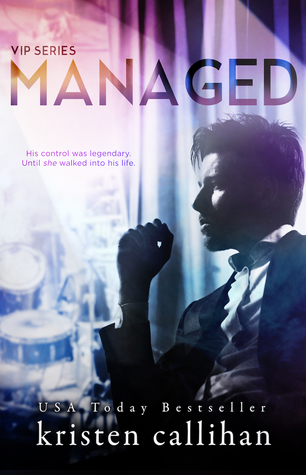 Published November 14th, 2016 by Plain Jane Books
Blurb
It started off as a battle of wits. Me: the ordinary girl with a big mouth against Him: the sexy bastard with a big…ego.
I thought I'd hit the jackpot when I was upgraded to first class on my flight to London.
That is until HE sat next to me. Gabriel Scott: handsome as sin, cold as ice. Nothing and no one gets to him. Ever. He's a legend in his own right, the manager of the biggest rock band in the world, and an arrogant ass who looks down his nose at me.
I thought I'd give him hell for one, long flight. I didn't expect to like him. I didn't expect to want him. But the biggest surprise? He wants me too. Only in a way I didn't see coming.
If I accept his proposal, I leave myself open to falling for the one man I can't manage. But I'm tempted to say yes. Because the real man beneath those perfect suits and that cool façade just might be the best thing that's ever happened to me. And I just might be the only one who can melt the ice around his heart.
Let the battle begin…
My Review
Started On – Dec. 08 2016.
Finished On – Dec. 08 2016.
I love this book. It was funny from the beginning to the end, omg Sophie Chatty Girl Darling, is my favourite female character, not even up to 100 pages into the book and I was already laughing and in love with our two protagonists.
So I already knew what to expect ever since I finished reading idol, book 1 in the series, can be read as a standalone. So I knew I would be in for a treat and this book wasn't disappointing, very endearing and instantly captivating. It was everything I expected and more for Gabriel Sunshine Scott-ie.
I loved them, wow I stumbled across 1-star reviews, okay nah I went to hunt them down, how could they rate this wonderful book 1 freaking star and the reviews are ridic. One said they hated Sophie, for she is crazy, a pest, annoying and non-realistic so she dnf it there, but still managed to know all the tidbits in the middle, I kid you not (hattuuuur), I mean I agree with everything but the last one, it's so clear that Sophie is crazy right from the onset, but realistic, common. Fiction isn't realistic, it just imitates real-life but it ain't real yo.
I love them, seriously. They are drastic opposites, but the two of them fit perfectly and their story is so sweet and yummy to read, I totally loved it. The second book of Kristen Callihan that I am reading and I am wanting more, especially if we get to read about the rock stars love stories… I'm especially curious about Brenna (she's not a rockstar) but she's definitely getting with one of them, not dropping any spoilers.
Y'all should read this series, it is funny and loving, I assure you, you'll laugh like you haven't this year, for any other book.