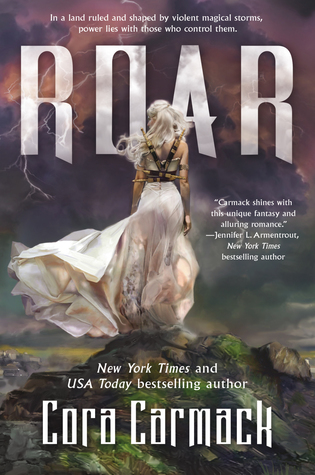 Book – Roar
Series – Stormheart
Book No. – 1
Author – Cora Carmack 
Publication –  June 13th, 2017. 
Publisher – Tor Teen
Blurb – In a land ruled and shaped by violent magical storms, power lies with those who control them…
Aurora Pavan comes from one of the oldest Stormling families in existence. Long ago, the ungifted pledged fealty and service to her family in exchange for safe haven, and a kingdom was carved out from the wild lands and sustained by magic capable of repelling the world's deadliest foes. As the sole heir of Pavan, Aurora's been groomed to be the perfect queen. She's intelligent and brave and honourable. But she's yet to show any trace of the magic she'll need to protect her people.
To keep her secret and save her crown, Aurora's mother arranges for her to marry a dark and brooding Stormling prince from another kingdom. At first, the prince seems like the perfect solution to all her problems. He'll guarantee her spot as the next queen and be the champion her people need to remain safe. But the more secrets Aurora uncovers about him, the more a future with him frightens her. When she dons a disguise and sneaks out of the palace one night to spy on him, she stumbles upon a black market dealing in the very thing she lacks—storm magic. And the people selling it? They're not Stormlings. They're storm hunters.
Legend says that her ancestors first gained their magic by facing a storm and stealing part of its essence. And when a handsome young storm hunter reveals he was born without magic, but possesses it now, Aurora realizes there's a third option for her future besides ruin or marriage.
She might not have magic now, but she can steal it if she's brave enough.
Challenge a tempest. Survive it. And you become its master.
My Review
Started On – 1st August 2017.
Finished On – 1st August 2017.
The wording in this book, although beautiful, had me re-reading lines just to get the simple meaning of the words. Although very necessary I found the story to be too stretched because when it comes down to it, not much exactly happened in this book apart from Aurora somewhat discovering herself and even that felt a bit rushed, like once the big reveal came to play, everything started rushing in accordance, which I get because she's now aware, but still the ending could have been better and I would have loved more depth to the minor characters.
I found this book lacking when it came to me connecting with the main character, her actions although for good course bring up a lot of questions, like why did she leave Nova behind, she should have dragged her along or ensured her safety. Too much loose ends.
Why must there be a triangle? Cora paints the betrothed prince as a dark risk taker, who although has ulterior motives for Aurora being his bride, seems genuine when it comes to his feelings for her and cares about her well being and Aurora is clearly attracted to him, despite her loathing.
Then comes in Thorne and she washes all her interest in him, perfectly forgetting she still is betrothed to the prince, because of the story she made to keep them from thinking she ran away. Who stops looking for a kidnapped princess? Like she honestly didn't think out her plan well. So yes the prince has a lot of flaws, but he has a lot of redeeming qualities still, which Cora does so well to point out to us and his reason for keeping his secret is even clearer now. I think I have a bad case of falling for the apparent bad guys with redeeming qualities in books. I can't deal with the feelings she has for Thorne, I just feel it's wrong especially with the weight of her secrets.
It got to a point, where I found the story had too many irrelevant bits to fill it up and I just started skimming pages, till I saw something interesting or important was happening. The book started off strong but going down the line, it started losing it and taking a downhill, like I said I started skimming. I feel like the world she created wasn't well explained as she should have, like introduce us better to the concept which is extremely awesome in its own rights.
Although, if I must add, the actions of the men in this story, is strongly anti-feminist, and Aurora, is too easily throdded on, she doesn't have much of a backbone.
Despite my many complaints, I look forward to knowing where this story is going and hope it's only getting one more book, for I really like the world she's created and I need to know how Nova's is and the reason the prince is the way he is and what really happened to the place that is Locke.