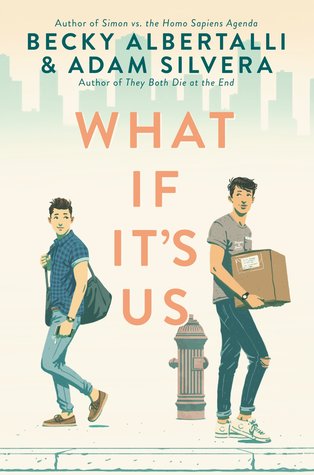 Title – What If It's Us
Author –  Adam Silvera & Becky Albertalli
Publication – October 9th, 2018.
Publisher – HarperTeen
Genre – Contemporary, Young Adult, Romance
Arthur is only in New York for the summer, but if Broadway has taught him anything, it's that the universe can deliver a showstopping romance when you least expect it.

Ben thinks the universe needs to mind its business. If the universe had his back, he wouldn't be on his way to the post office carrying a box of his ex-boyfriend's things.

But when Arthur and Ben meet-cute at the post office, what exactly does the universe have in store for them?

Maybe nothing. After all, they get separated.

Maybe everything. After all, they get reunited.

But what if they can't quite nail a first date . . . or a second first date . . . or a third?

What if Arthur tries too hard to make it work . . . and Ben doesn't try hard enough?

What if life really isn't like a Broadway play?

But what if it is?

Book Review
The most underwhelming book I've read in 2018. It's cute and all that, even funny in some places, but it was also pretty boring, I don't even know if that makes sense.
It's my first time reading anything by Adam Silvera and second time finishing something by Becky Albertalli, so I'm not even sure who wrote what. (just googled so Ben is written by Adam and Arthur by Becky)
I would like to say, the characters aren't relatable, the writing was just off and didn't merge well, the friendship in this book also didn't read as well as it should.
So many cutesy moment and so many moments which had me shaking my head, especially how predictable and ugh! the story goes, yes it's a sweet story but just many things didn't jell. I love how it touched on subjects about race, white-passing, being lost culturally, family and homophobia.
The whole book is just too cliche, like nothing spectacular about the plot or anything at all. I would go on but I would spoil the book and it will turn into a rant, that will make me change my mind and kinda hate the book, which at this moment I do not.
I anticipated this book because of Becky Albertalli, not even because of the hype and here I am disappointed.