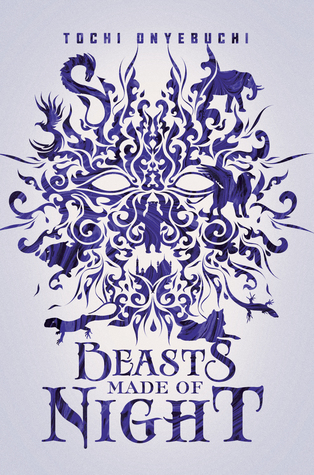 Book – Beasts Made of Night
Author – Tochi Onyebuchi
Publication – October 31st, 2017
Publisher – Razorbill
Blurb – In the walled city of Kos, corrupt mages can magically call forth sin from a sinner in the form of sin-beasts – lethal creatures spawned from feelings of guilt.

Taj is the most talented of the aki, young sin-eaters indentured by the mages to slay the sin-beasts. But Taj's livelihood comes at a terrible cost. When he kills a sin-beast, a tattoo of the beast appears on his skin while the guilt of committing the sin appears on his mind. Most aki are driven mad by the process, but 17-year-old Taj is cocky and desperate to provide for his family.
When Taj is called to eat a sin of a royal, he's suddenly thrust into the center of a dark conspiracy to destroy Kos. Now Taj must fight to save the princess that he loves – and his own life.
A gritty Nigerian-influenced fantasy.


My Review
Started On – 12th August 2017.
Finished On – 17th August 2017.
I heard about Beasts Made of Night on Twitter. A young lady was looking for a Nigerian book blogger to give this book to and I was the lucky person who she eventually sent it to. She said the author is Nigerian and it's a fantasy based in Nigeria, and I was just sold because right at that moment, I had actually been seeing the cover across twitter, but never really paid attention to the book so I did a quick Goodreads look up and I was impressed and excited. The cover is also so beautiful.
I didn't even read the blurb, I wanted to be surprised when I finally got my hands on it and surprise I was by how the execution of the story went.
This story follows the life Taj who is popularly known as Skyfist or Lightbringer, an Aki people who fight and destroy Inisisa, Sin Beasts, which are brought forth by Mages. The Aki are treated poorly and are high disrespected, which I don't get why? These people are wonderful and what they can do is a blessing, one that the people in Kos should respect if they have common sense, but they don't I guess. So I didn't read the blurb of this book, so I didn't know Mages were meant to be terrible, but I got that vibe quickly from the books. There is a lot of lahala going on in this book that I could have done with out though, but it is there.
I didn't fancy the romance aspect you see, because it was like Tochi couldn't make up his mind and left the opening possible for Taj to actually be interested in 3 different ladies, but all I know is I was right about my suspicions along, especially when I got to the end of the book. But I love romance and for me to say I didn't fancy it at all is something.
I loved reading Nigerian slangs, like Oga – which means boss, ehn-ehn which is used for emphasis and the other slangs, at least I understood them immediately.
I was just confused about the city of Kos. I wondered where it was meant to be and I think it's meant to be like Lagos. Because Kos is home to many people from different ethnic groups in Nigeria because we have the names such as Taj, Aliya, Kolade, Ifeoma, Emeka, Karima, Arzu, Izu etc. So from this, I got that Kos is a diverse city and there are other parts of the world Kos is in.
I also think Islam is the main religion of Kos because they spoke about fasting, and there was always a call to pray and Masjid, which means mosque. Which also negates my opinion that Kos is in Lagos, but based on Northern Nigeria.
There are two main creatures in this story the Sin Beasts or Inisisa and the Arashi, which is meant to be terrifying *cough* By the way I need an explanation to why the Sin-Beasts manifest in the form of animals, there isn't really a back story to the people and how the magic really works. Yes, a Mage was trying to explain to it a bit, but I still didn't grasp it.
I believe there is meant to be a sequel because the story just cuts off, like it just gets interesting and it just stops. I hope it is way better than this book, I would truly love to know what fate awaits Taj and how he manages to overcome the obstacles in his path.
We're thrust into the city of Kos, just like that and are left alone to stumble around till we figure out for ourselves how the city works and who the people in it are. I have a problem with this because the way the story is written, it's like Tochi expects us to know the terms he used to describe the people and some of the things in their world immediately.
More than 70% into the story, I still couldn't understand the purpose of the story and what was meant to be happening. I knew something was meant to be off but the execution of it was too laid back and was as if in passing it still wasn't making sense to me. Then there's a full 360 turn from the laid back story telling at 80% of the story and are thrust into fast paced with no sort of warning and that's how it goes till the last page.
Even the last few chapters felt rushed to me and confusing, even the big twist that was meant to occur, the way it was written, was so flat it had me scrunching my face. I knew it was coming, but the scene was just ugh to me and so cringy. It could be so better.
In fact, the story had me confused a lot because there really isn't a sense of time to it, we're just meant to know time is going and so so and so things have occurred. It went from one place to another, which made it hard to follow it well, you have to pay full attention when reading this book. The story although beautiful in my opinion was poorly written, the writing style needs a lot work to make the story shine as bright as it ought to because the concept of this story is wonderful.
It should be noted I received and read an ARC of this book, and it is noted in it that this book isn't finished or corrected. So I do hope the finished book is way better and much more impressive.
As a Nigerian, I feel sad because I was really really excited and thrilled for this book.